There's no denying that a good hat can make any outfit. And when it comes to six-panel hats, there are plenty of options out there to choose from.
But with so many different styles and brands to choose from, it can be tough to know where to start.
Luckily, we've done the hard work for you and rounded up some of the best six-panel hats out there. From classic trucker hats to more modern designs, there's something for everyone on this list.
So whether you're looking for a new everyday staple or a stylish accessory for your next big adventure, keep reading and find the perfect six-panel hat.
---
What's the Most Classic Style of 6 Panel Hats?
There are two main styles of 6-panel hats: dad hats and trucker hats. Dad hats are typically made from cotton or wool and have a soft, flexible brim.
They're named "dad hats" because they're the kind of hat that your dad would wear – plain and unassuming.
On the other hand, truckers have a stiffer brim and are usually made from polyester or nylon. The front panels of trucker hats are often perforated to improve breathability.
There's no doubt that dad hats are having a moment right now. And while they might not be the most stylish option out there, they're definitely the most comfortable.
If you're looking for a six-panel hat that you can wear day in and day out, we recommend going with a classic dad hat design.
These hats usually have unstructured panels and a relaxed fit, which makes them perfect for throwing on when you're running errands or taking a walk.
So, which style is right for you?
If you're looking for a classic, understated look, go for a dad hat. If you want something with a little more personality, go for a trucker. And if you're not sure, get both! They're both great choices.
---
Are 6 Panel Hats Good for Big Head / Small Head People?
The best thing about six-panel hats is that they're incredibly versatile. And because of their simple design, they can be easily adjusted to fit nearly any head size.
And the unstructured crown on 6-panel hats makes them especially well-suited for people with larger head sizes.
Of course, small head people can wear them, too! Most 6 panel hats feature low profiles that won't overwhelm your head.
So, no matter what your head size, you can find a six-panel hat that's comfortable and stylish.
---
How to Find a 6-Panel Hat That Fits Your Head?
One of the challenges of shopping for 6-panel hats is finding one that actually fits your head. Fortunately, you can do a few things to find a hat that fits well.
First, measure your head circumference with a tape measure. Once you know your head circumference, you can use our size chart to find the perfect fit.
If you don't have a tape measure handy or if you're between sizes, don't worry, like we mentioned above, most 6-panel hats have an adjustable strap in the back that allows you to customize the fit.
Just be sure to try on the hat before you buy it so that you can adjust the strap to get the perfect fit.
---
Top 3 6-Panel Hats on Our List
Now that you know a little bit more about six-panel hats, it's time to start shopping! Here are three of our favorite options.
Check Price: On Amazon
Fabric: Cotton
Closure: Hook and Loop
Color Options: Over 30 (Recommend: Green/Putty, Navy/Kahki)
Size: 22-23.1″
Extra Points:
100% breathable and soft fabric
skin-friendly crown
prev-cured brim
If you're looking for a classic, unassuming 6-panel dad hat, the Hat Depot 100% Cotton Low Profile 6 Panel Hat is a great option.
First, the comfortable and soft fabric makes it perfect for everyday wear. And the skin-friendly crown means you won't have to worry about sweaty forehead syndrome.
The Hat Depot hat also features a pre-curved brim, making it look great. And with over 30 color options to choose from, you're sure to find one that suits your style.
Customer Satisfaction:
I was so happy when I found the perfect hat. It fit perfectly and it felt like it was made for me. I didn't even have to think about it- it just became a part of my life.

I loved wearing it and it made me feel confident and stylish.
---
Check Price: On Amazon / On tillak
Fabric: Nylon
Closure: Snap
Color Options: 5 (Recommend: Heron Blue, Aspen Yellow, Fir Green)
Size: 20.5-23.5″
Extra Points:
relaxed unstructured crown
chic flat bill design
5 stunning and stylish color option
Want a more streetwear-inspired look? Then you'll love the Tillak COHO Flat Bill Six Panel Hat.
This hat features a relaxed, unstructured crown and a chic flat bill design. You can pair it with just about any outfit for a casual or more dressed-up look.
And what impressed us most was the color option. Tillak offers five stunning and stylish color options, from classic black to more eye-catching shades like Aspen Yellow.
Customer Satisfaction: 
I had been looking for a while for a nice, quality hat that would fit well and the material would be durable. I found exactly what I was looking for with Tillak hats.

The material is tough and very conforming to the head, which means it's not going to fly off my head in the wind. And the color selection is great too!
---
Check Price: On Amazon
Fabric: Polyester
Closure: Hook and Loop
Color Options: 9 (Recommend: Green)
Size: 7 1/4-7 1/2 (22.4 – 23.6″)
Extra Points:
full mesh crown for the max breathability
ultra lightweight
If you're looking for a hat that's perfect for summer, the FEICUI Men's Mesh Trucker Hat is a great option.
The full mesh crown means maximum breathability, and the ultra-lightweight design won't weigh you down in the heat.
And the sweat issue? Not a problem with this hat. The Polyester crown and brim will help keep the sweat out of your eyes.
Customer Satisfaction: 
I was really happy to find this mesh flex fit ball cap. It's a great quality and it fits well. The airflow is great, which is important in the summertime.

It's perfect for wearing when I'm out running or working out.
---
More 6 Panel Hats Recommendation with Honest Customer Review!
So that's it for our list of the best six-panel hats. But don't stop shopping there! Here are a few more options to consider, all with great customer reviews.
#1. 
Flexfit Multicam 6 Panel Baseball Cap via Amazon
I love this hat! I have a lot of different camo apparel, but this hat is subtle enough to wear with anything, anytime. It's comfortable and goes with almost anything.
#2.
OTTO 6 Panel Low Profile Contrast Vertical Mesh Back Cap via Amazon
I've been buying these hats for years now. They're always a good, reliable choice. 
#3.
Outdoor Cap 6-Panel Cap via Amazon
A little hesitant at first, but after reading the reviews I decided to give it a try. I'm glad I did. I'm looking forward to using it in the woods this weekend.

#4.
1984 Contrast 6 Panel Hat via snapbacklane
I must have gone through a dozen over the past year. I was so happy when I found this hat because it's really affordable and comfortable, and the style doesn't look cheap. I'll definitely be ordering more.
#5.
HHNLB Skull Finger Distressed Denim 6 Panel Baseball Cap via Amazon
I am so excited to get this new hat! I love the color and the feel of the fabric. It's perfect for fall weather.
#6.
Helm Ford Bronco Adjustable 6 Panel Duck Cloth Hat via Amazon
A nice, authentic piece of Broncos gear and it looks great. I'm sure I could find someone who would be willing to sell me one, but at this point I'm just happy with the hat.
#7.
Huf Crown 6 Panel Hat via moneyruinserverything
#8.
Volcom Men's Full Stone Flexfit Stretch Hat via Amazon
The small fits me perfectly. Volcom clothing never let's me down–I always look good in their clothes, and they always fit well.
#9.
BLOCK 6 PANEL HAT STRAPBACK via obeyclothing
#10.
DECKY Men's Acrylic 6 Panel Baseball via Amazon
I love my old-school flat bill cap. It's the perfect color and it fits so well. I can't wait to wear it out and show it off.
#11.
NYFASHION101 Blank Mesh Cotton 6-Panel Trucker Hat via Amazon
I had just moved to a new city and needed something to keep my head warm. It fit perfectly! And not only that, but it made me look so stylish too. 
#12.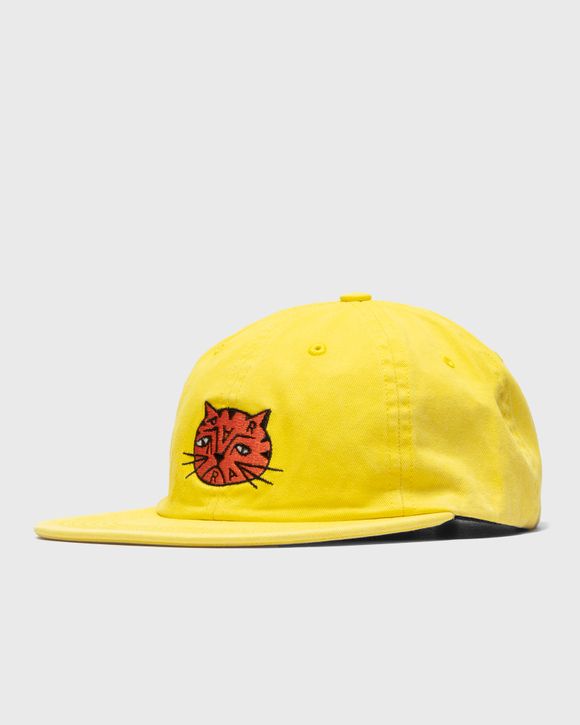 PARRASAD CAT 6 PANEL HAT via bstn
---
Final Words
There's no one "right" way to wear a 6-panel hat – it all depends on your personal style and preferences.
However, we hope that this blog post has given you some helpful insights into how to find the best 6-panel hat for your needs. Thanks for reading!