Winter is coming, so it's time to start thinking about staying warm! Beanies are a great way to do just that.
However, if you're bald, this can be a challenge. You can't just put any old beanie on your head and expect it to work.
But never fear; we've got you covered with our list of the 15 best beanies for bald heads! These beanies will keep you warm all winter long and help you maintain your style.
So we've got you covered whether you're looking for a pom-pom beanie, a slouchy beanie, or something in between. Keep reading to learn more about the best winter beanies for bald heads!
---
Wool Or Acrylic? Not Only Warmth Matters!
When it comes to beanies, you have two main choices: wool or acrylic. Both materials have their benefits and drawbacks.
– Wool Beanies Are Ideal, But A Bit Pricey and Itchy
Wool is a natural material that is excellent at trapping heat. Wool is also breathable and insulating, making it an ideal choice for cold weather.
Besides, wool absorbs moisture, so it's a great choice if you live in a wet or humid climate.
The only downside to wool is that it can be scratchy and uncomfortable for some people. Especially for baldies, wool can irritate the scalp.
Moreover, wool beanies can be pricey if you have a limited budget.
– Acrylic Beanies Are Affordable and Practical
On the other hand, acrylic is a synthetic material that is less expensive than wool. Acrylic is also non-allergenic and hypoallergenic, making it a good choice for people with sensitive skin.
However, acrylic isn't as good at trapping heat as wool. Acrylic is also less breathable, so it's not the best choice if you tend to get sweaty or live in a humid climate.
So which material is right for you? Ultimately, it depends on your personal preferences and needs. Consider what matters most to you before making your decision.
---
Will Skull Cap Suit Baldies In Winter?
The answer depends on how cold it gets where you live.
Skull caps are a type of beanie that covers the entire head, but excludes the ears. They are the best option if you need a sharp and street look.
However, for baldies, you need to think twice before opt for a skull cap. The main reason is, since there are no ear flaps, it might not provide enough warmth for your head and ears.
A skull cap might be all you need to stay warm if you live in an area with mild winters. But if you live in a colder climate, you'll probably need something more substantial like a cuffed or slouch one.
---
Our Top Three Best Beanies For Bald Head
Now that you know what to look for in a beanie, it's time to take a closer look at some of the best options on the market.
#1. One Gives the Ultra Warmth: Carhartt Thermal Beanie with Face Mask
Check Price: On Amazon
Fabric: Polyester Fleece
Recommended Color Options: Charcoal Heather
Size: 7 – 7 1/4 (for Head: 22 – 22.8)
Extra Points:
Pull-Down Face Mask with Moisture- Wicking Backing
Full Ear Coverage
Durable and Thermal Polyester Fleece
Dry Quickly
Adjustable
The Carhartt Thermal Beanie with Face Mask is one of the best options if you are going through an extremely cold winter.
Your warmth will be guaranteed with the pull-down face mask, full ear coverage, and the thermal polyester fleece.
No wind will get through this baby. It is also adjustable to find the perfect fit for your head. Snow is also no problem with the moisture-wicking backing and quick-drying fabric.
The only potential downside is that this beanie can be slightly pricey. But considering the features and quality, it is definitely worth the investment.
Customer Satisfaction:
It's warm and keeps my bald head nice and toasty to 5 degrees Fahrenheit. Anything less than that and it can get a bit chilly, but that's to be expected.

I don't usually use the face cover that comes with it, but it tucks inside the top of the hat nicely and doesn't bother me at all.
---
#2. A Big Bargain: FZ FANTASTIC ZONE Unisex Winter Beanie Scalf Set
Check Price: On Amazon (10% Off)
Fabric: Acrylic Polyester
Recommended Color Options: Black
Extra Points:
Artificial Wool Lining
Come with a Scarf
Super Soft and Stretchy
Budget-Friendly
Who will say no to a two-in-one set, especially when it is this budget-friendly? The FZ FANTASTIC ZONE Unisex Winter Beanie Scalf Set comes with a beanie and scarf.
You can wear them together or separately, depending on your needs. The beanie is made of acrylic polyester and has an artificial wool lining.
It is also super soft and stretchy for a comfortable fit. The scarf is made of the same materials and has a similar level of softness and stretchiness.
And at this price point, you really can't go wrong.
Customer Satisfaction:
I'm glad I found this beanie. I live in Wisconsin and it's currently 0 degrees outside with a wind chill of minus 15. My head was starting to get cold, but now it's not at all. This beanie has an amazing thermal effect.
---
#3. For Helmet & Driving Use: Halo Headband Dryline Skull Cap
Check Price: On Amazon
Fabric: Dryline
Recommended Color Options: Black
Extra Points:
4-way Stretch Mesh Fabric
Breathable Micro-Mesh Top
Made In USA
UPF Protection
Patented Sweat Seal
Halo Headband Dryline Skull Cap has got you covered if you want to lock the warmth while wearing a helmet or driving.
This bald-friendly headgear is made of Dryline fabric, which will not only insulate your noggin' but will also wick moisture away.
And when we say "breathable", we mean it! The micro-mesh top allows air to circulate so you don't have to worry about that dreaded "helmet head."
The best part? if you're worried about sun protection, don't be – this baby has UPF 50+ protection.
So whether you're hitting the slopes or the open road, the Halo Headband Dryline Skull Cap is a great choice for baldies.
Customer Satisfaction:
I bought this for my bald riding partner. He loves it because it protects his skin from the sun's UV rays and has a sweat diverted built in above his eyes. He says it's the most comfortable helmet he's ever worn!
---
Not Enough? Here are More Options for the Best Beanies for Bald Head
#1
CAMOLAND Winter Beanie for Men Outdoor Fleece Hat via Amazon
#2
MEN'S 100% CASHMERE BEANIE via kingandfifth
#3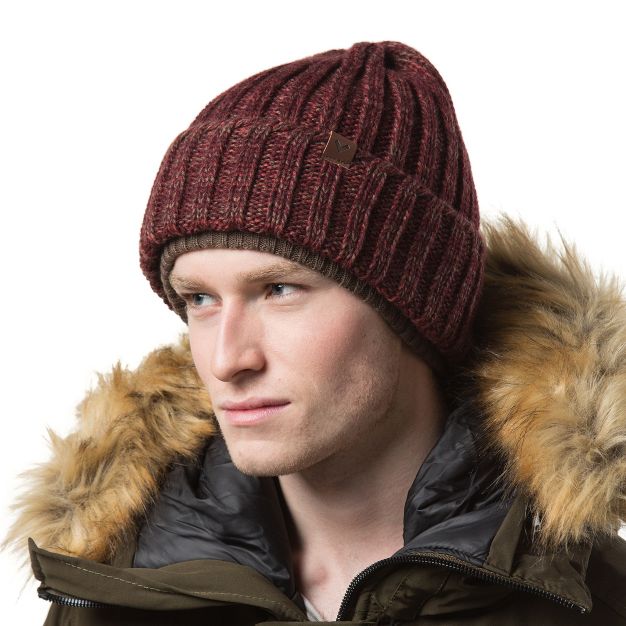 Gallery Seven Men's Knit Beanie Winter Hat via Target
#4
Men Warm Beanie Hat with Full Plush Lining via viclans
#5
Headway Waffle Knit Beanie via carbon2cobalt
#6
Columbia Whirlibird Watch Cap Beanie via Amazon
#7
M-Tac Fleece Watch Cap – Army Military Tactical Beanie Hat via Amazon
---
Final Words
We hope you enjoyed our roundup of the best beanies for bald heads. Stay warm and stylish all winter long!
Do you have a favorite beanie that's not on our list? Maybe you've found a great way to style a beanie if you're bald.
Happy shopping!