We all know that hats are a necessary accessory to any outfit. They can make or break your whole look! But with so many different types of headwear out there, it can be hard to keep track of what's what.
Never fear; we're here to help. We'll explore 19 types of headwear, complete with photographs and helpful descriptions.
By the end, you'll be a hat expert in no time! Let's get started.
---
Aviator Hat
Aviator hats (or bomber hats) are a classic style popularized by pilots during the early 20th century.
The hats are characterized by their dark leather and large earflaps that can be tied up or down.
They have been around since the 1940s, worn mainly by fighter pilots. But nowadays, they are known as winter thermal hats and often feature faux fur trim.
Besides, people always mistake the aviator hat for a different type of headwear. You might call it a trapper or ushanka hat ( in Russia).
---
Baseball Cap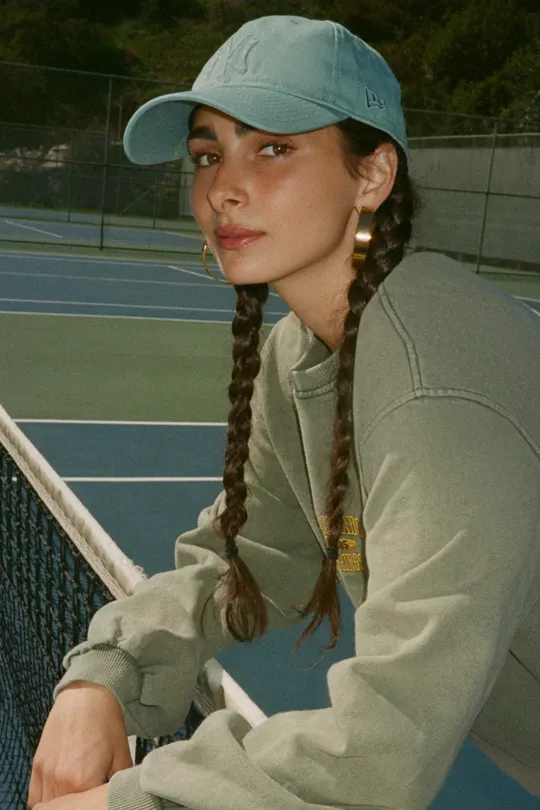 MLB Tonal Baseball Hat from urbanoutfitters
The most iconic type of headwear today has to be the baseball cap. This style originated in the 1860s as part of uniforms for players on various teams.
Not only are baseball caps useful for shading the sun during a hot day at the ballpark, but they serve as a great statement piece or accessory for completing an outfit.
The distinct designs and styles of baseball caps allow for endless possibilities when creating one's unique look.
There are two popular variations of baseball caps called snapbacks and dad hats, which are different in design.
Besides that, baseball caps have a lot of variations based on the panel amounts, closure types, or even the shape of the brim and crown!
With baseball hats being so fashionable and easy to wear, no wonder why they will always remain such a popular item!
---
Beanies
CARHARTT WATCH BEANIE from gluestore
Beanies are knit hats that were initially created for functional use, but over time they have evolved into a fashionable accessory.
Nowadays, you can find a beanie to match any outfit or special occasion.
Not only do they look great, but they can also provide protection from the elements and ensure your head stays warm and toasty in colder weather.
Plus, as a bonus, there's nothing cozier than spending time outdoors snuggled up in a cute knit beanie!
Just like baseball caps, beanies also have a huge family. Plenty of variety of colors, different designs, and styles appears on the market.
With their practical benefits like softness and warmth, beanies are widely worn by many people with hair loss.
---
Bucket Hats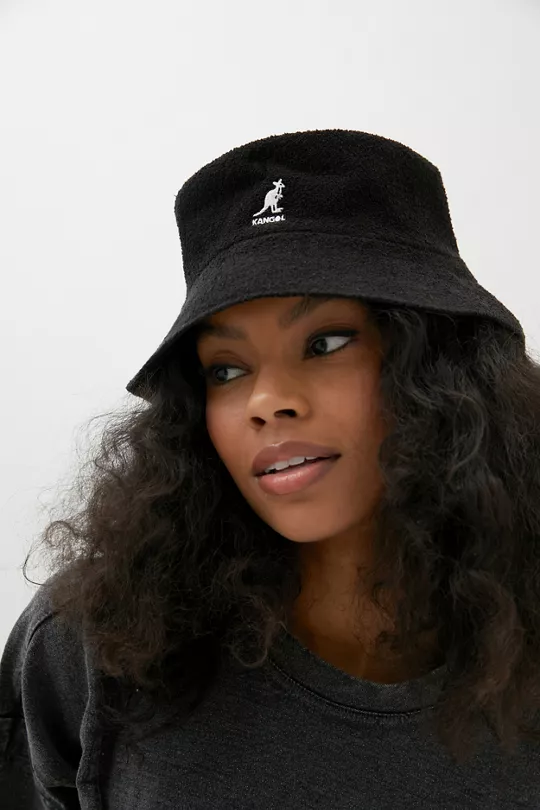 Kangol Bermuda Bucket Hat from Urban Outfitters
Bucket hats, a style once restricted mainly to anglers, may have taken on a new life of their own.
Every decade has seen bucket hats adopted as a trend by different generations, making them one of the few fashion pieces that can be enjoyed by all ages–young and old.
Besides being stylish, bucket hats provide maximum protection from the elements; they are sure to shade your eyes from harsh sunlight and keep your head warm when it's cold outside.
Therefore, bucket hats are great for outdoor activities like running, hiking, and golfing.
---
Berets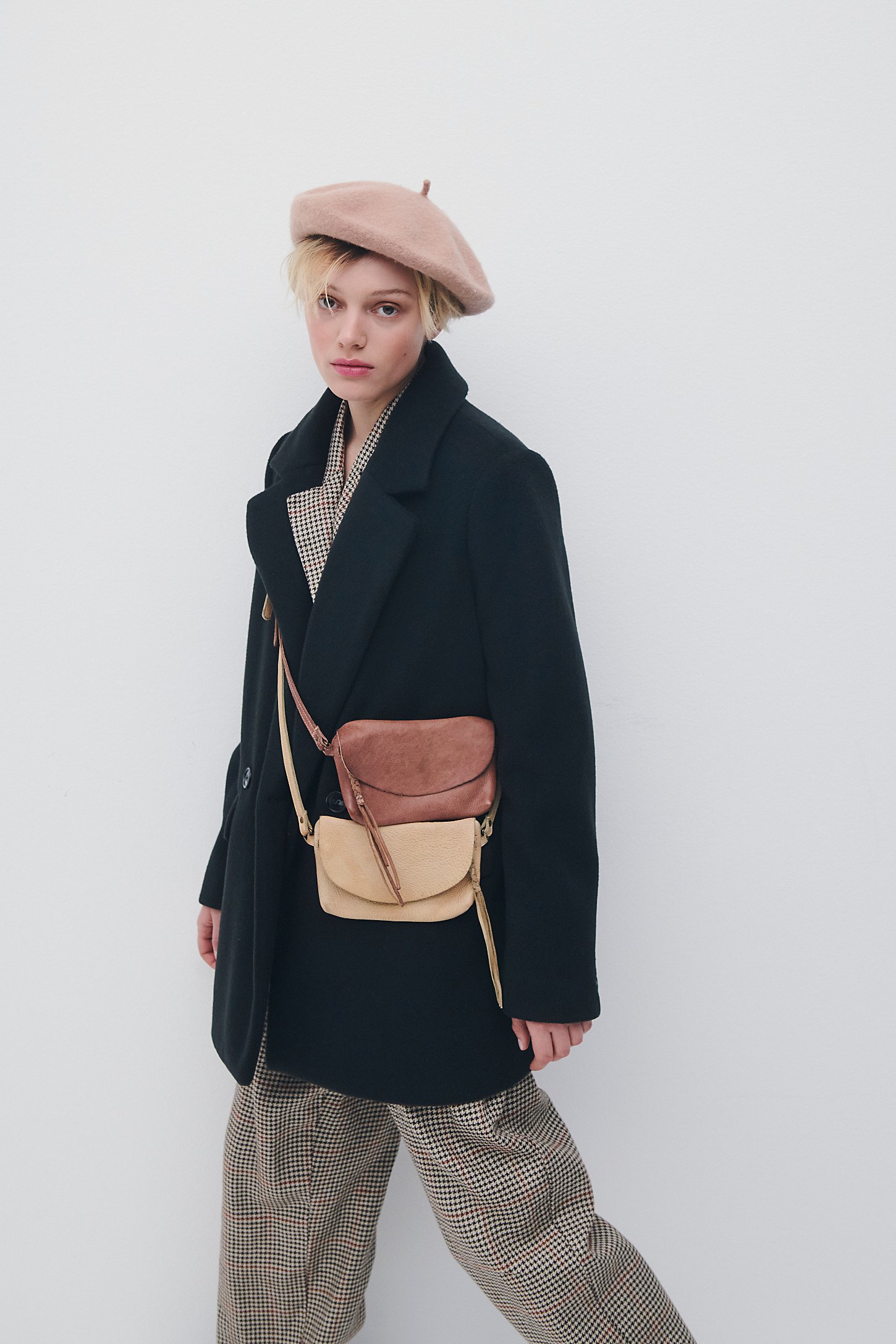 Margot Slouchy Beret from Free People
Berets are the epitome of French flair and European class! Throughout history, berets have been worn by iconic figures in art, fashion, and politics for centuries.
Today, berets remain a staple to express an elegant, gentle or even rebellious attitude.
Furthermore, berets can be styled to follow any fashion trend or be pinned back for a classic touch.
And even though any hairstyle can go with a beret, they look particularly great with natural curls or waves.
Your beret journey takes you down the path of traditionalist chic or cutting-edge cool. You undoubtedly won't regret making room for berets in your wardrobe!
---
Bowler Hats
BOWLER Wool Hats from Conner Hats
Bowler hats have been turning heads for centuries!
First coming onto the fashion scene in 1849, bowler hats were designed to be strong and lightweight – perfect for a day of riding horses or running errands.
Not only are bowler hats functional, but they've also always been considered fashionable.
From Winston Churchill to Charlie Chaplin, bowler hats can make any outfit unforgettable. Many famous comedians wear bowlers as a way to complement their zany personalities!
Bowler hats strike the perfect balance between form and function, whether you're going for a classic vibe or want something more eccentric.
---
Boater Hats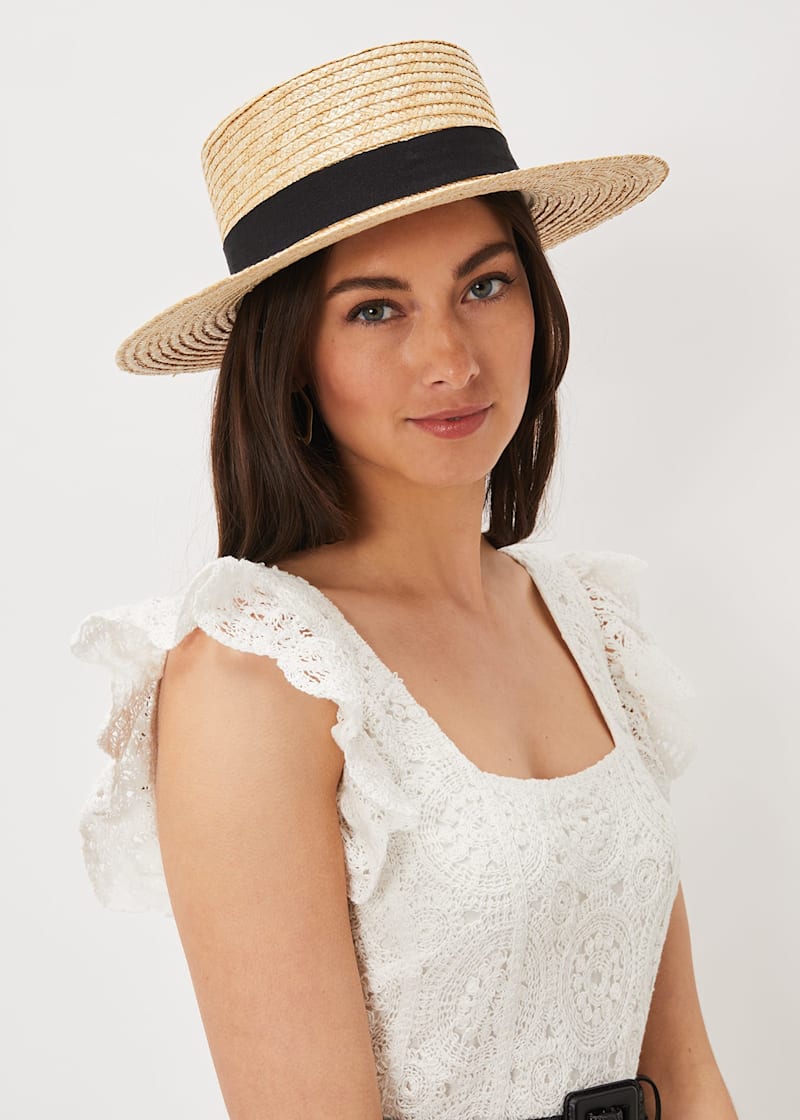 Straw Boater Hat from Phase Eight
Boater hats have a long and colorful history. Men first wore these brimmed hats in the late 19th century and early 20th century to keep cool on hot summer days.
Besides, boater hats are perfect for boating or attending outdoor events like garden parties and weddings.
Their unique flat crown designs and distinct brims give boater hats a vintage-inspired charm that can match any look.
Whether you want an understated classic or something more eye-catching, boater hats are the perfect way to add a bit of flair to any ensemble!
---
Cowboy Hats
Range 6X Cowboy Hat from Stetson
Cowboys have become an enduring part of American culture, with stetson hats as one of the iconic symbols.
But beyond aesthetics, cowboy hats are vital to the everyday lives of farmers and ranchers who need sun protection in the harsh outdoors.
Cowboys stave off rain, keep their heads warm throughout various temperatures, and even block the wind for extra comfort all year round.
Besides, cowboy hats are usually made from animal fur or plant materials such as:
So depending on the materials used, stetson hats can be custom designed to suit the activity or climate at hand.
While stetson hats were originally created for practicality, they now represent a lifestyle – exuding sophistication and style.
---
Cloche Hats
100% Wool Vintage Style Cloche Hat from Gentleherd
Cloche hats are timeless and perfect for pulling any outfit together.
Originating in the 1920s and inspired by the bell-like shape of cloche bells, cloche hats found popularity as an elegant headwear statement throughout the decade.
Despite cloches falling out of fashion in the '40s and '50s, they have seen a resurgence in recent years — with subtle updates to modernize their classic look and bring them into the 20 century.
They come in all shapes and materials and can be dressed up or down depending on the occasion.
Whether it's a romantic stroll through the park or a chic soiree, cloche hats has got you covered!
---
Docker Hats
WOOL GREY CHECK DOCKER HAT from CAPTAÌN
Docker hats stand out from the crowd with their stylish and laid-back appeal.
They bring an air of cool confidence to any outfit, drawing inspiration from traditional dockers and giving it a modern twist.
Docker hats provide the perfect balance between functionality and fashion sense; the brimless design is practical and protects your face from the sun's rays.
Its muted colors can easily be paired with almost any other element in your wardrobe.
Wear docker hats on sunny days, chill evenings, or beach days – they're so versatile they're bound to keep you looking cool wherever you go!
---
Deerstalker Hats
Lovat Sherlock Deerstalker Tweed Hat from PETER CHRISTIAN
Whether you consider yourself more of a Basil Rathbone sherlock-homies vibing type or a Robert Downey Jr. sherlock-holmes trendsetter, the deerstalker hat is the quintessential Sherlockian look.
Arguably one of the most iconic styles of headgear in history, deerstalker hats have become more popular in modern times due to their fashion sense.
Not only are they fashionable and dapper, but these shelled beauts also offer wearers protection from the elements.
Hunters, fishermen, and sometimes even hikers wear deerstalker hats for their comfortable fit and unique style.
---
Fedora Hats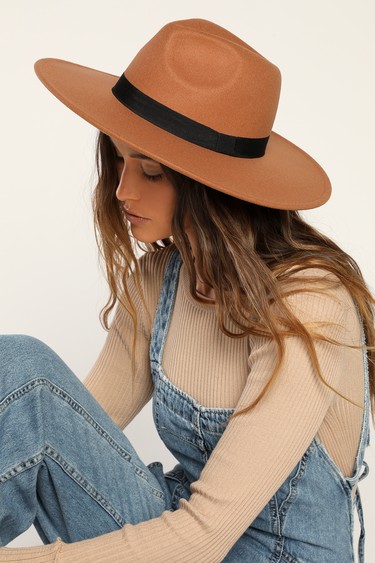 Got a Feeling Tan Fedora Hat from Lulus
Fedora hats might be considered a timeless must-have and a fashion classic within the millinery world.
From wool felt to wool blend, these hats come in various fabrics perfect for any fashion style and occasion.
Whether you're looking to add some edge to your modern street look or prefer more classic vibes, there's an ideal fedora hat for everyone.
Popularized by celebs, it's clear why fedoras have remained increasingly popular amongst sophisticated fashion trendsetters for many years.
Wool-felt fedoras are luxurious and sophisticated with a hint of vintage flair.
Wool blend styles are more casually edgy and can be easily dressed up in colder climates or dressed down easily in warmer trends – such versatility!
---
Flat Caps
Bakerboy Flat Cap from John Lewis
Flat caps, also known as ivy caps, have become increasingly popular in recent years. Not only do they look cool, but flat caps are incredibly versatile.
From relaxing with friends on a sunny day to adding an extra level of sophistication great for a job interview—it's the perfect accessory!
And did we mention that flat caps look fantastic? The flat cap comprises two pieces of cloth stitched together to create a flat-sided peak over the eyes.
The interiors are often lined with warm insulating fabric to protect their wearer from unpredictable weather.
There are so many flat caps available from tweed to cotton fabric. So no matter your style preference or budget, you have the perfect flat cap waiting for you just around the corner!
---
Fascinators
The Taylor Fascinator from The Hat Hive
Fascinators are a fashion statement that has been around for centuries. Still, in terms of modern trends, fascinators were undeniably made popular by the fashion icons of the British Royal Family.
These days fascinators are seen as an elegant hair accessory donned by many women at high-profile horse racing events like Ascot and Melbourne Cup.
But fascinators aren't just reserved for race day; they can also be a visually striking addition to any outfit, regardless of the occasion.
Whether you're aiming for something timelessly fashionable or an over-the-top look, fascinators can help create a distinctively stylish effect.
And with so many varieties to choose from, you'll certainly be able to find one that suits your style (and budget!)
---
Golf Hats
Out of all golf apparel, golf hats are arguably the most iconic and recognizable. Dating back to the turn of the 18th century, golfers wore golf-specific headwear for decades.
Standards such as golf caps, visors, and beanies have golf-specific variations available today from almost any major golf apparel brand to keep you looking good on the course.
From classic bucket hats to modernized wide-brim hats with cool designs and logo placements, golfers now have a huge selection when selecting their perfect golf hat for any occasion.
Like any other outdoor sports hat, golf hats are designed to offer protection from the elements. So you don't have to worry about getting sunburnt or having a gust of wind ruin your hair.
No matter your style or fashion taste, don't be surprised if you spend more time shopping for golf hats than clubs!
---
Panama Hats
Austral Straw Panama Hat from willowlanehats
The Panama Hat, a craze that started from humble beginnings on the coast of Ecuador, is now one of the most desirable fashion accessories.
It's originally made from the plaited straw leaves of a palm-like plant called Carludovica palmitate, but lightweight Panama hats are often woven with finer materials.
The weaving process can take up to 6 months for hat makers and this intensive labor is why Panama hats can range from pricey to luxury pieces costing hundreds of dollars or above.
Not only are these straw Panama hats stylish and timeless, they also keep your head dry when the sun is out and surprisingly give you a cooler feeling under its canopy.
Get that debonair Panama hat now to feel the difference!
What You May Want to Read Next
---
Pork Pie Hats
Lined Pork Pie Hat from COTSWOLD COUNTRY HATS
Pork pie hats offer a playful twist on traditional headwear. With their short, upturned brim and rounded crown, pork pies are one of the most iconic styles of hats in men's fashion.
But what is pork pie hat history? It's said pork pies first gained popularity when British prizefighting athletes of the 19th century began wearing them to the ring.
Though this tradition was short-lived, pork pies remain an enduring casual wear staple. And why pork pie?
This was purported to have been named by African Americans in the 1940s as a nod towards a pork pie dessert served at Harlem's soul-food eateries.
Whatever you call it – pork pies or pork pie hats – you can add some flair and playfulness to your wardrobe with this classic chapeau.
---
Pillbox Hats
MAYFAIR PILLBOX HAT From Lock & Co.
Pillbox hats – the iconic sartorial piece that has stood the test of time in its classic yet elegant beauty.
Although pill box hats may appear relatively modern, their origins can be dated back over a century ago, making them one of the oldest fashion pieces still alive and well today.
Even so, pillbox hats remain a testament to timeless fashion.
Appreciated both for their avant-garde style and practicality, no wonder they are often worn by those who have an eye for sleek sophistication.
---
Top Hats
Silk Top Hat from Lock & Co.
Top hats have left an impression on the fashion world and beyond. From their regal roots to their current vibrant appeal, top hats remain treasured pieces of classic style.
Introduced in the 18th century as a symbol of wealth and status, top hats quickly became staples of formalwear, rising in popularity as top hatters opened shops across England and other parts of Europe.
But top hats also have been worn by many non-real characters who are now part of popular culture.
From Scrooge McDuck to the mysterious Cat in the Hat, top hats have been making a statement since long before different generations of fans modernized them.
---
Turbans
CARNAVAL TURBAN from MARYJANE CLAVEROL
Turbans have long existed in history, with men and women wearing them as symbols of faith, strength, or fashion.
Over time turbans have evolved to become more than just traditional or religious head gears – they've become an integral part of style statements.
From turbans being spotted on runways to them gracing the covers of top fashion magazines, turbans have been making waves recently.
Long used as a symbol of power and elegance, turbans are comfortable to wear and look stylish no matter the occasion.
So next time you're looking to update your wardrobe and add some pizzazz, consider slipping into a turban – it's guaranteed to take your style statement higher.
---
The End of the List
So there you have it! 19 different types of headwear explained — with everything from aviators to turbans.
And now you're armed with all sorts of knowledge about each one! Experiment with different styles until you find one that suits you best!
As always,—if you have any questions,—please feel free to reach out to us; we'd be happy to help in any way we can :).