'Tis the season for ugly Christmas sweaters! But why are they considered so ugly in the first place?
It's likely because of the bright, festive colors and loud holiday-themed prints. But these days, ugly Christmas sweaters have become quite popular and stylish.
Whether you're attending a themed holiday party or want to stay warm in the winter, an ugly Christmas sweater will make your friends smile.
Luckily, there is a way to make them look less "ugly" and more fashionable with the perfect topper – a hat!
Read on to learn how to pair a hat with your Christmas sweaters and some great hat options.
---
Why Are Christmas Sweaters Considered Ugly?
Christmas sweaters are typically known for their flashy patterns, garish designs, and oversized fit.
For starters, they often feature bold designs that can be off-putting to some.
Patterns like snowflakes, candy canes, and Santa Claus can be a bit over the top for the fashion-conscious crowd.
And since these sweaters often feature bright colors, they can appear overwhelming and eye-catching in public.
Additionally, most of these sweaters are oversized to give them an "overly festive" look which some find unappealing.
But don't let this intimidate you from wearing one — you can easily make it work by pairing it with other items that better fit your style.
A hat is a great way to top off your sweater and add an extra dimension of style to your look.
---
How to Pair A Hat with Christmas Sweaters?
When choosing a hat to top off your Christmas sweater outfit, think about what kind of statement you want to make.
Do you want something that stands out or fits in? Here are two approaches you can try:
1. Try One With Christmas Elements:
If you want something accentuating your holiday spirit, opt for hats with Christmas elements like snowflakes, reindeer, gingerbread men, etc.
This will add some extra cheeriness to your outfit without being too over-the-top.
2. Try with Similar Patterns:
You may also choose hats with similar patterns to those on your sweater but in different colors or textures.
This method works well if you want a more subtle approach and still want all eyes on your original ugly sweater!
---
What Are Some Hat Options for Christmas Sweaters?
The great thing about pairing hats with ugly Christmas sweaters is that there's no limit as to what type of hats you can wear – fedoras, beanies, baseball caps – the possibilities are endless!
Consider adding pompoms or fur trimming for an even more eye-catching effect.
If you're feeling extra daring (or cold!), why not try earmuffs too? They'll keep your ears warm while ensuring everyone notices your unique outfit!
Here are some ideas for hats that you can wear with your ugly Christmas sweaters:
---
A Santa Hat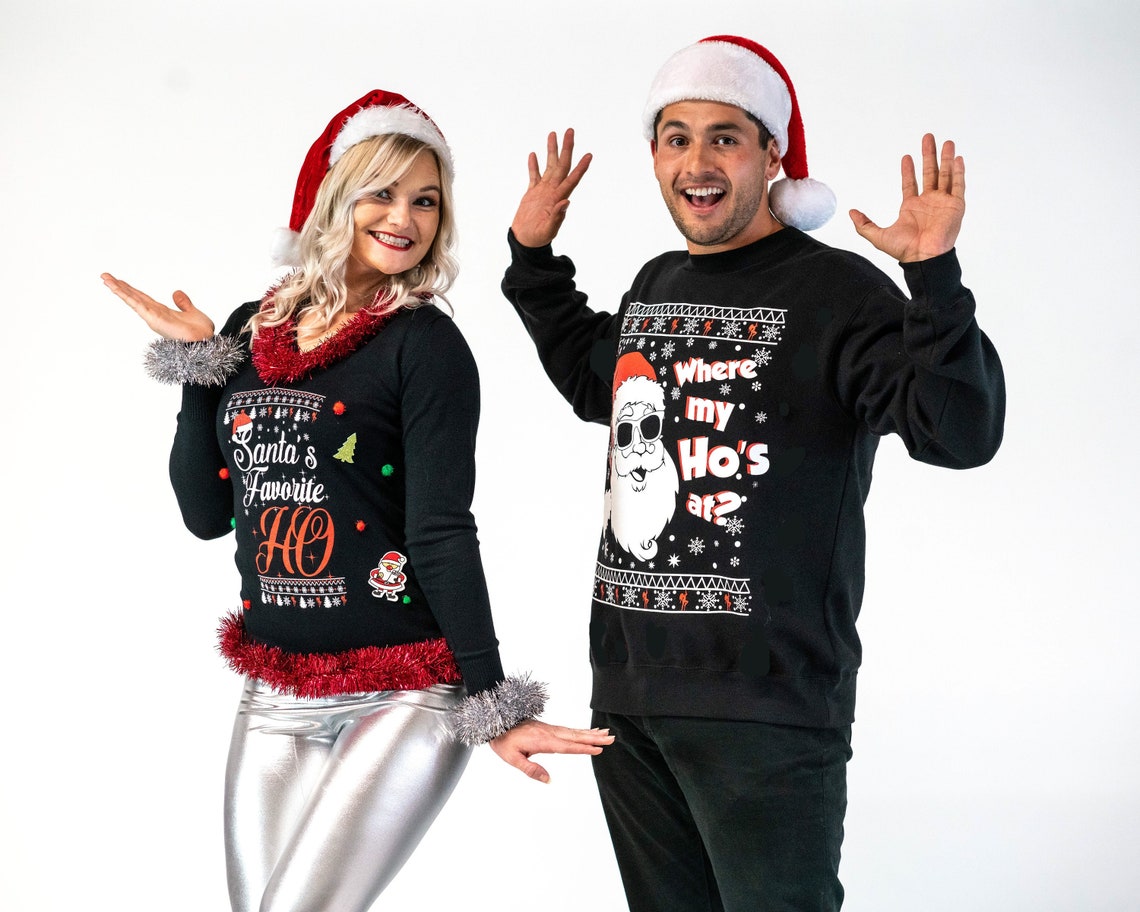 Matching Couples Ugly Christmas Sweater on esty
Try adding a Santa hat to your Christmas sweater ensemble – it's an easy way to take your look up to the next level.
Whether you choose something fuzzy, sparkly, or light-up, wearing a Santa hat with your holiday sweaters will ensure you look as ready for the season as possible. Happy holidays!
@yo_soy_el_cuarenton_ese on Instagram
@nativeindianagirl on Instagram
@iguanavintageclothing on Instagram
---
Christmas Headbands
source: theothersidetribe.com
Christmas headbands are a fun, festive way to accessorize your ugly Christmas sweater.
Not only will they add a little pizzazz to your outfit, but they can also provide some comic relief.
Plenty of cute and classy styles are available if you prefer more subtle additions.
Whatever your style, make sure you have some fun with it!
@ccassel25 on Instagram
---
Pom Pom Beanies
Santa's New Sleigh Sweater from KIEL JAMES PATRICK
If you're looking for the perfect Christmas outfit upgrade, why not try a pom-pom beanie?
These cozy hats are the perfect addition to any ugly sweater and add flair to your look. They come in various styles.
From sober neutrals to bright hues like royal blue or hot pink, they are guaranteed to light up any room.
Plus, with winter temperatures here, you can rely on them for extra warmth and protection from the cold.
Source: legalleeblonde.com
---
Wrap It Up
Ugly Christmas sweaters can be fashionable if paired correctly with the right accessories — like hats!
So don't be afraid of those bright colors and loud prints. Find a fun matching hat and get ready for compliments when people see how stylishly festive you look this holiday season!
With so many options available, there's no doubt everyone will find something perfect for their unique style.
So go ahead – start shopping now and show off your fashion sense this holiday season!