There's no denying that the trench coat is a winter wardrobe essential. The timeless piece is not only classic and chic but also incredibly versatile.
Whether running errands on a chilly day or dressing up for a night out, a trench coat always does the trick.
But if you want to add something extra to your look, why not try topping off your trench with a scarf?
A good combination of scarf and trench coat can elevate your outfit and make you look more stylish.
Not sure which scarf to choose? We rounded up four types of scarves that are perfect for pairing with your favorite trench coat.
Trust us; you'll be feeling cozy and stylish all season long!
Oversized Blanket Scarf
An oversized blanket scarf is probably the coziest scarf option out there. It's large and rectangular, making it perfect for wrapping around your neck multiple times.
This scarf is perfect for those cold winter days when you want to feel extra warm and cozy. Plus, it'll keep you extra stylish!
The most classic outfit is pairing an oversized blanket scarf with a camel trench coat and skinny jeans for a chic and effortless look. You can choose patterns like herringbone or plaid for a more preppy vibe.
Or you can try a solid color blanket scarf since it is easy to pair with any outfit, especially trench coats in bold colors like red or black.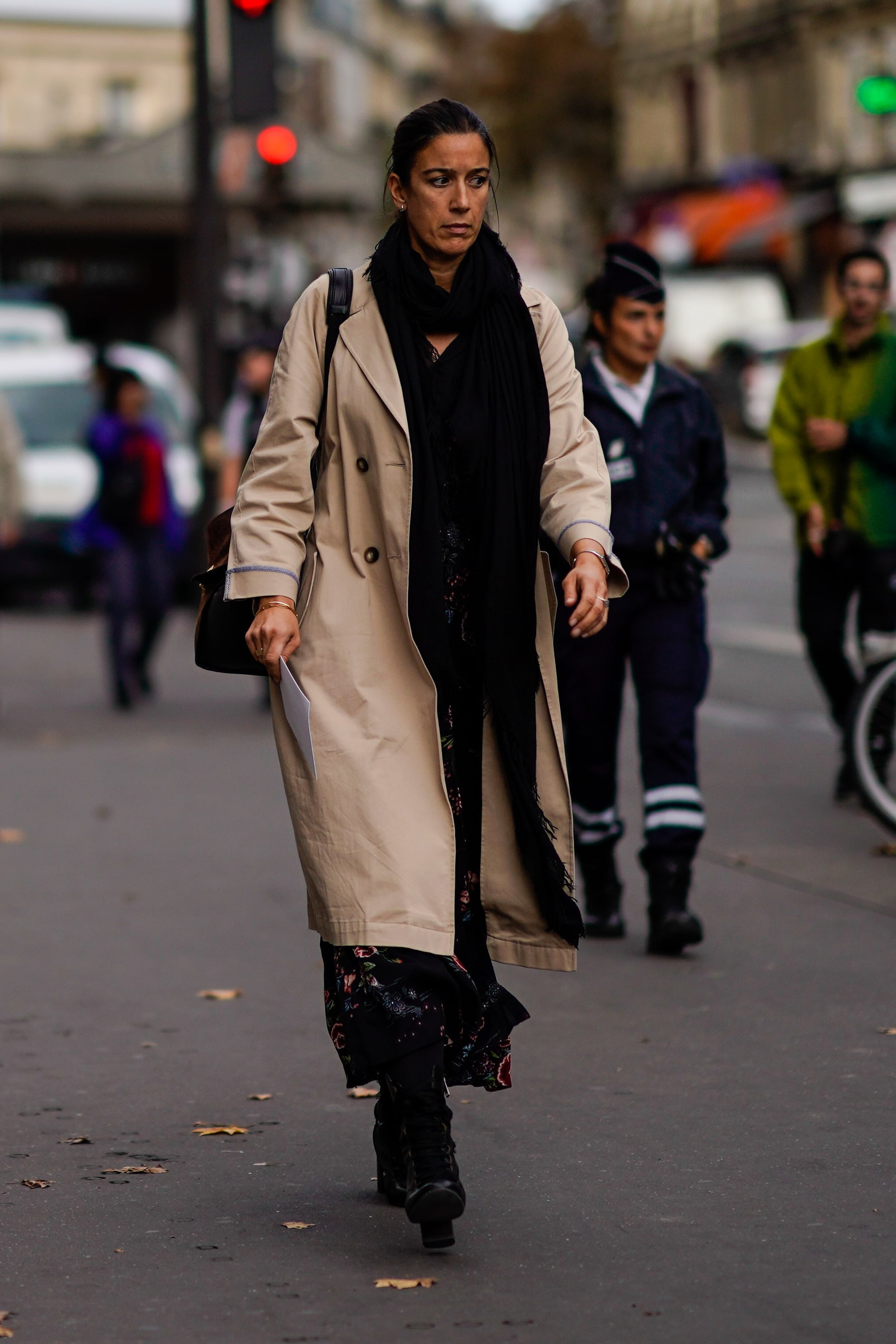 Silk Scarf
If you want to add a touch of luxury to your outfit, try topping off your trench coat with a silk scarf. Silk is a luxurious fabric that looks and feels amazing.
It's also the perfect scarf material for transitional weather since it's not too heavy or too light.
One way to style a silk scarf is by tying it around your neck like a scarf. This creates a chic and sophisticated look that is perfect for a night out or even for work.
Or you can try topping off your sharp-looking trench coat with a printed silk scarf for a pop of color and pattern. A solid-colored scarf will also do the trick.
Ensure the scarf is long enough to tie it into a knot or bow.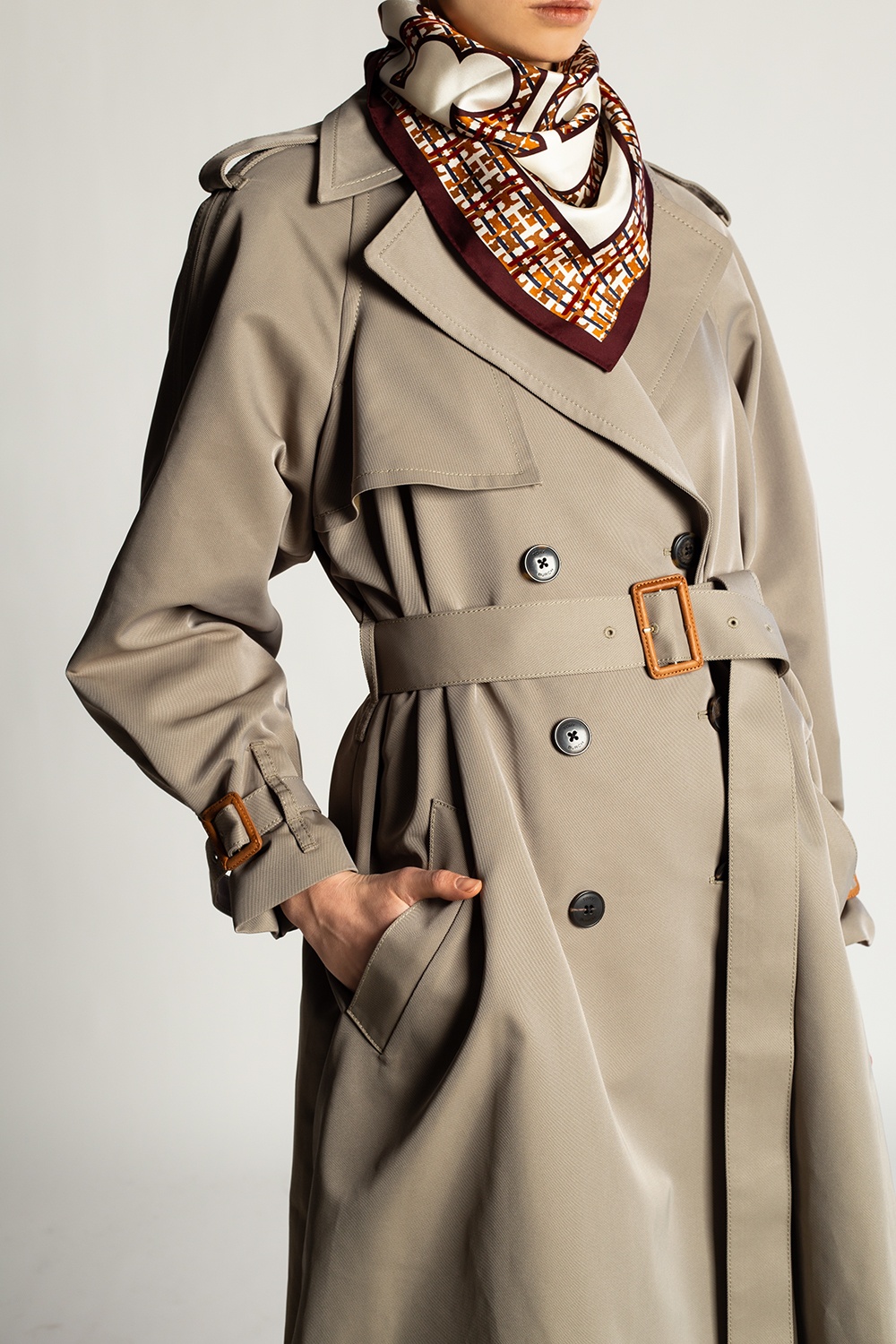 Solid Color Infinity Scarf
An infinity scarf is a must-have in any woman's wardrobe. It's a looped scarf, so it's essentially one long continuous scarf.
It's incredibly versatile since you can wear it in multiple ways. You can wear it long, doubled up, or even as a scarf-like headband.
The best thing about an infinity scarf is that it's very easy to style. Since it's one long scarf, you can loop it around your neck and be on your way.
A neutral solid color infinity scarf is the perfect way to top off your trench coat since it's easy to style and goes with everything.
You can't go wrong with a black or white scarf, but feel free to try pinky, beige, or even red!
Knit Scarf (Waffle)
Waffle patterns are very popular right now; you can find them on everything from clothes to home decor.
And of course, there are waffle knit scarves! They have a textured look and feel that makes them stand out from regular knit scarves.
Of course, waffle knit scarves and trench coats are the best combinations to show your feisty personality in cold weather.
Wearing a waffle scarf with a trench coat is the perfect way to add some texture and interest to your outfit.
What we recommend is to choose a scarf in a complementary color to your trench coat. For example, try a light green or blue scarf with a camel trench coat.
Or you can mix things up and try a patterned scarf with a solid-colored trench coat. And a monochrome palette always looks chic.
---
Conclusion
No matter what type of scarf you choose, we guarantee it will elevate your trench coat game this winter.
So go ahead and give it a try! You might find yourself reaching for this combination repeatedly throughout the season.