Summer hats are the perfect way to keep cool and look stylish at the same time! With so many different styles to choose from, finding the perfect one for your summer wardrobe can be quite a challenge.
Whether you prefer boho-chic floppy hats or something more structured such as a panama or fedora, this blog post has you covered.
Read on to find out how you can wear your favorite summer hat with style and confidence.
---
#Tip 1: Pay Attention to the Contour
@soulshoetique.com
If you want your summer hat to look great, you'll want to make sure it has the right contour.
A wide brim is perfect for shielding yourself from the sun and gives a cool, relaxed look. Floppy hats also make a great choice if you're looking for something more relaxed.
Hence your outfit for a wide-brim summer hat should also be more relaxed and laid-back. For example, pair your wide-brim hat with a simple tank top and shorts for the perfect summer look.
For a more structured option, such as a fedora or Panama hat, you'll want to go for something with a bit more structure.
A chambray shirt and some tailored pants would be the perfect combination when it comes
A smaller brim is ideal if you're looking for something a bit more formal and structured. Panama hats, fedoras, and trilby hats all look great with sharper outfits like suits or blazers.
Besides, the shape of your face plays a huge role in how your summer hat looks on you.
Rounder faces look best with hats that have an angular brim and a flat top, while hearts and oblong shapes should go for wider brims to add balance.
---
#Tip 2: Go for A Summer Color
@shoprocknrags.com
It's no secret that summer is the season for bright and cheerful colors. So why not take advantage of this and opt for a hat in a vibrant hue or pattern?
Hats in lighter shades, such as white and beige, look great when combined with breezy summer dresses or linen shirts. Meanwhile, more daring colors like orange and blue are ideal for adding a pop of color to your look.
Another summer favorite is prints! Animal prints, stripes, and floral patterns all make great options when it comes to finding the perfect summer hat.
And when pairing with your outfit, keep this trick in mind: use one subtle color or neutral color between your hat and your outfit. So that the focus stays on your statement accessory.
For example, if you're wearing a striped summer hat, try sticking to a white shirt or denim shorts for maximum impact.
---
#Tip 3: Accessorize When Necessary
@Pinterst
Summer hats are all about having fun with accessories! You can also use pins and brooches to add a touch of personality to your look. Or try experimenting with different textures and patterns.
However, not all accessories will work with all summer hats. When accessorizing a floppy hat, remember that less is more!
Too many accessories can take away from its natural shape and make it look over the top.
For example, if you're wearing a floppy hat, stick to smaller accessories like pins and brooches.
Bigger pieces can overpower the shape of the hat and take away from its natural beauty.
On the other hand, when it comes to structured styles like fedoras or Panama hats, you can put some decoration on hatbands and rims.
For a more classic look, add a ribbon or bow to the back of your hat. This is an easy way to dress up your outfit without having to worry about how it looks.
And for baseball caps or other more sporty styles, earrings, bandanas, and hair clips are a nice touch. You can go bold with colors and patterns since baseball caps tend to be more subtle.
At the end of the day, how you choose to wear your summer hat is up to you! With these simple tips, you can create a look that's perfect for any occasion and season. So go ahead and get creative with fashion this summer!
---
#Tip 4: The Textile of Hats Should Be Humble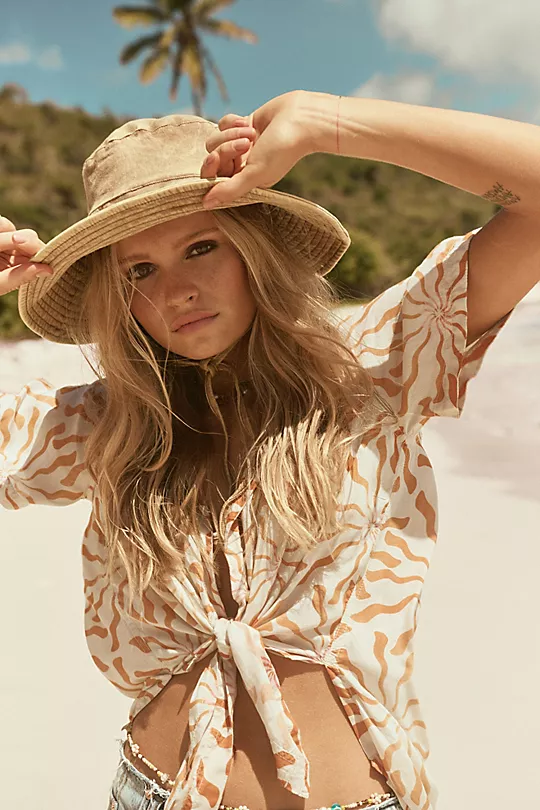 @freepeole.com
Unlike winter, when wool and velvet are the materials of choice for hats, summer is all about lightweight fabrics like straw, linen, cotton, and canvas.
These fabrics allow your head to stay cool while also shielding you from the sun's rays.
Moreover, for a summer vibe, you can also go for fedoras with colored ribbons or Panama hats with woven rims.
Whether you're looking for a subtle way to add some personality to your outfit or simply want to protect yourself from the sun, there's something for everyone when it comes to summer hats.
---
#Tip 5: Function Is Also Important
Finally, don't forget that the function of your summer hat is still important.
So while it's always nice to look stylish, make sure you prioritize protection from the sun over how fashionable you look.
Fortunately, most hats are designed to keep you cool and protect your skin from UV rays. Look for materials that are breathable and those with UPF protection.
When shopping for a summer hat, also take into account how often you'll be wearing it and how much coverage you need. Depending on how sunny your location is, you may want to opt for a wider brim or darker color.
And lastly, a packable hat is always a great idea. That way, you can easily bring your hat with you wherever you go.
With these tips in mind, it's easy to find the perfect summer hat for any occasion! So don't be afraid to experiment and have fun with fashion this summer!
---
Final Words
There's no shortage of options when it comes to how to wear a summer hat. From floppy hats and fedoras, to baseball caps and Panama hats – there are so many styles that can work with any outfit or occasion.
When it comes to accessorizing, remember that less is more for floppy hats, while you can go bolder with more structured styles.
Additionally, look for lightweight fabrics and UPF protection to make sure your hat is both stylish and functional.
With these tips in mind, you'll be able to find the perfect summer hat that will keep you looking cool all season long!