Though top hats have once reached the peak of their popularity in the 18th and 19th centuries, they are not completely out of style.
But it's pretty challenging to rock a top hat as part of your casual outfit.
Luckily, while they're traditionally associated with formalwear, there are plenty of ways to wear a top hat casually or semi-casually.
Here are five tips on how to wear a top hat casually and make sure you look stylish without overdoing it:
---
Tip 1: Go for A Suitable Height
@Amercian Hat Makers
The noticeable height of top hats used to be their trademark, but if you don't want to attract too much attention, select a lower-profile hat.
This means that instead of the tallest ones available, choose something more modest and in line with the rest of your outfit. This will give you a more relaxed vibe and make your outfit look more laid-back.
Otherwise, a standard height only make you look like you're wearing a costume.
Tip 2: No Formal Than Smart Casual Outfits
@Fashionvoly
To keep things from looking too stuffy, pair your top hat with something other than an overly formal outfit.
Instead, opt for something like a smart casual blazer and chinos combo. This perfect balance between dressy and relaxed will showcase your top hat in the best light.
Besides, a street or metal rock shirt (not a t-shirt) is also a great way to pull off the look without going over the top.
Tip 3: Try Different Textures (straw or leather)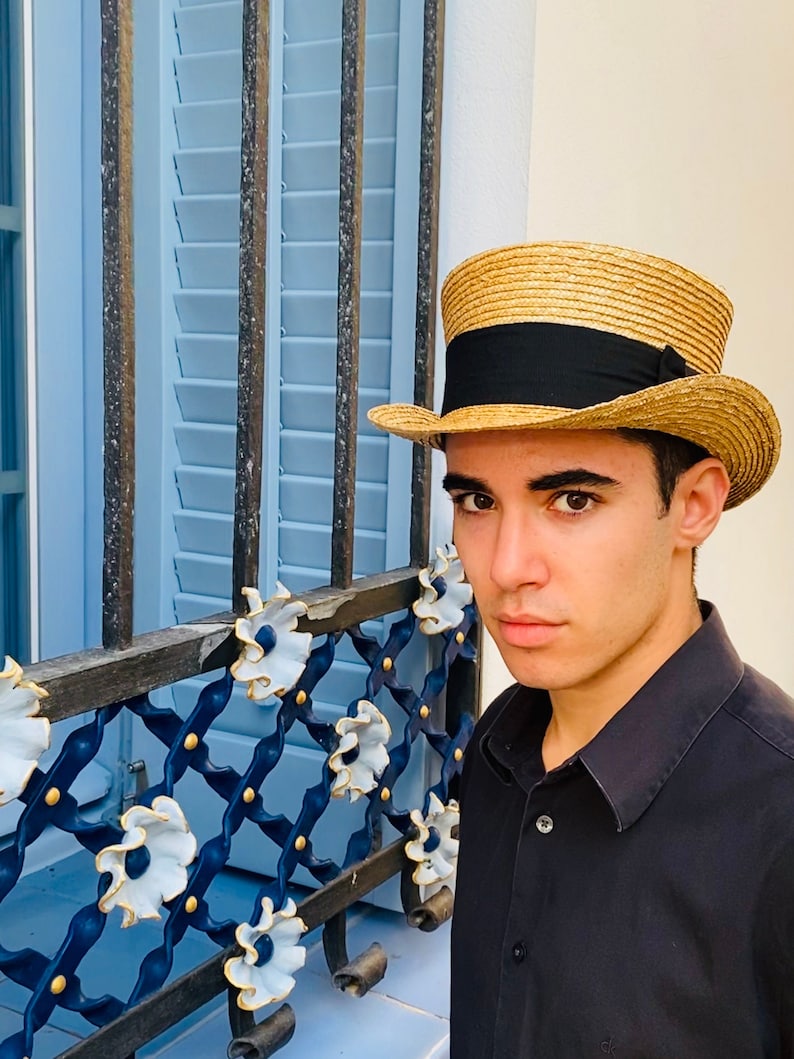 source: www.etsy.com
A classic felt top hat might be over for a casual look, so you can opt for something else.
Leather top hats can be a great way to achieve the perfect combination of relaxed yet sophisticated style.
It's bold and unexpected simultaneously, plus you won't find it on every street corner.
However, don't be afraid to experiment with other textures like straw or felt if you're going for something that looks less traditional but still stylish.
Tip 4: Jump Out of Black Color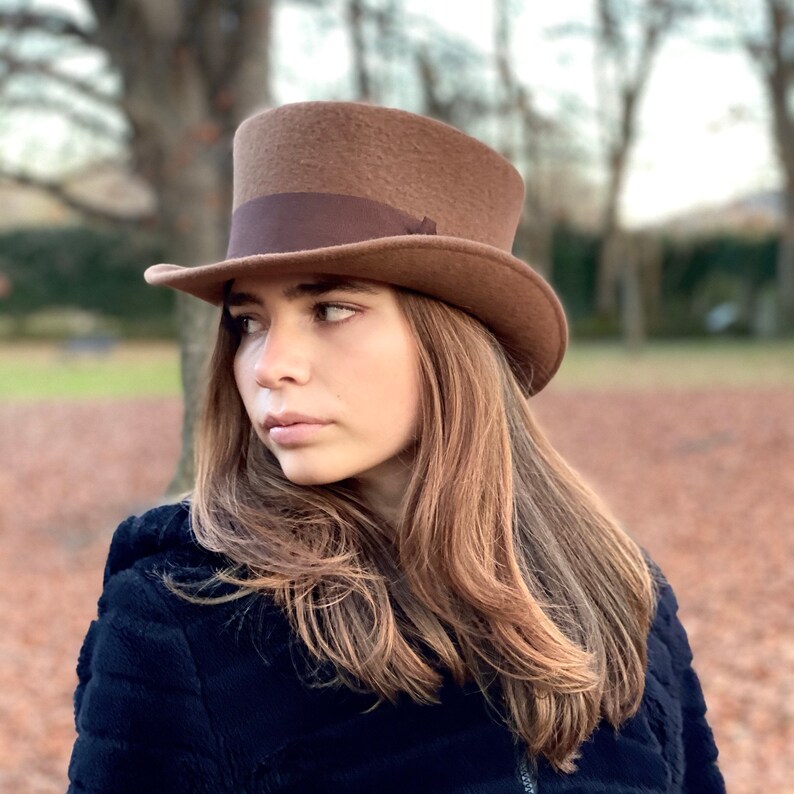 source: www.etsy.com
While black may be the classic color choice when wearing a top hat casually, don't be afraid to jump out of this box and try other colors, such as another neutral color like beige or brown.
These colors can add depth and interest to your outfit without being over the top.
Decorations such as feathers or ribbons can also give some great life to your look.
Tip 5: Go with Confidence
Last but not least, confidence is key! Don't be afraid to experiment with different styles and colors of top hats to find one that fits your look perfectly.
Because when you feel confident in what you wear, everyone else will also notice!
---
3 Alternative Styles For Top Hats
If you love the so-called top-hat look but don't want to wear a traditional one, there are some great alternatives.
Telescope Cowboy Hat
@GIGI PIP
If you want the look of a top hat, but aren't quite keen on going completely over the top, then look no further than telescope crown cowboy hats!
The telescope crown offers a higher crown height than regular cowboy hats, with a slight dip in the center.
Hence these hats are an ideal top hat alternative and provide a timeless shape and style that can take a more subtle dress-up look.
No matter the occasion, they're sure to make an impression—from country party themes to black-tie events. They'll never let you down when it comes to style.
And who knows, you might even hit two birds with one stone if you'll be heading out for an afternoon on horseback right after.
Telescope crown cowboy hats combine the perfect top hat vibe with a classic style that will disappear your top hat envy.
Pork Pie Hats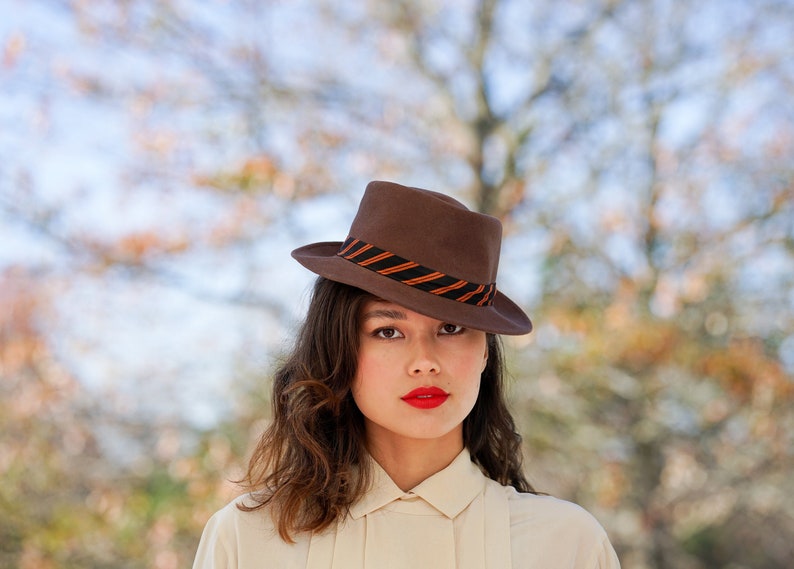 source: www.etsy.com
If you love the classic look of a top hat but don't want to go too formal, pork pie hats make a great choice.
The shorter crown and flared brim are the perfect features for a casual, yet classy appearance. Of course, all thanks to their distinct shape and structure!
Bowler Hats
@ASOS
Bowlers' hats are the perfect balance between formal and casual. This timeless style is a great alternative to top hats in that it gives you all the sophistication of a top hat but with a more modern touch.
The soft felt construction, short brim, and low-dome crown are perfect for those who want to make a statement without looking too dressy or over the top.
Wear your bowler hat with a tailored blazer and chinos for the perfect balance between smart and casual style.
---
Conclusion
Wearing a top hat casually can be tricky but once mastered, it can be an incredibly stylish addition to any outfit!
By following these five tips, you'll be able to rock your look without looking too stuffy!
Additionally, there are lots of alternative styles available. So take some time exploring until you find one that suits your style perfectly. Good luck!