If you're a pet parent, you know that the holiday season is not complete without your furry friend is a part of the festivities.
One of the most fun ways to include your pup in the holiday spirit is by dressing them up with a festive Christmas scarf.
We will cover all you need to know about finding the perfect Christmas scarf for your pup!
---
Choose Comfort and Style Over Anything Else
When selecting a dog scarf, comfort should always be your top priority.
You want something stylish and won't irritate or choke your pup when they're wearing it.
Look for fabrics like cotton or flannel—these materials are lightweight, breathable, and won't rub against their skin.
Plus, these materials are machine washable so you don't have to worry about spending too much time cleaning up after an outing.
Measure Your Dog Before Shopping
No two dogs are alike, so it is important to measure them before shopping for their new scarf.
Measure around their neck and chest to find something that fits them comfortably.
Don't forget to factor in extra space if they'll be wearing a coat—you don't want something too tight!
Make sure to look at size charts online before committing to any purchases, and look for adjustable scarves! These will give you more control over how snugly it fits around your body.
Mix & Match Colors & Patterns
Now comes the fun part—picking out colors and patterns! The great thing about dog scarves is that many options are available now.
From classic plaids and stripes to crazy colors like pink and neon green, there's something out there for everyone.
To make sure that your pup stands out this holiday season, try mixing and matching different colors together or go with one bold pattern instead of several subtle ones.
Remember: no matter what color or pattern you choose, make sure it matches your pup's personality!
---
Dog Christmas Scarf Outfits Inspirations
Red Sierra Scarf Scarf with Pom Poms from CANADA POOCH
Why limit yourself to the usual Christmas decorations when you can spice up a gorgeous red scarf for your dog this holiday season?
Put on those pom poms and prepare for a festive look that will bring joy and laughter.
Let him join in on the fun of Christmas dressing and show everyone his sparkling personality!
---
hey_hey_ellie_mae on Instagram
Show your puppy some extra love with a Christmas snowman pattern bandana for dogs this holiday season!
Not only will the snowman patterns bring out the holly jolly spirit of Christmas, but they'll also bring out your pup's inner cuteness as they strut down wintery sidewalks, enviously wearing the newest Christmas trend.
---
@odin_the_shepskypup on Instagram
Why not gift yourself and your pup-buddy this Christmas with a scarf that will absolutely add a modish twist to its look?
Get them a vibrant red and white designed scarf complete with stylish tassels. It's sure to make them the dazzling pet of the season.
And it's an excellent way to dress up your cutie for holiday photos or every day!
---
@nugget_da_pup on Instagram
Transform your furry friends into Christmas icons with the perfect Christmas accessory: a red, white, and green striped scarf for dogs.
With the perfect pop of Christmas color around their neck, your pals will spread festive cheer wherever they go – without even having to lift a paw!
---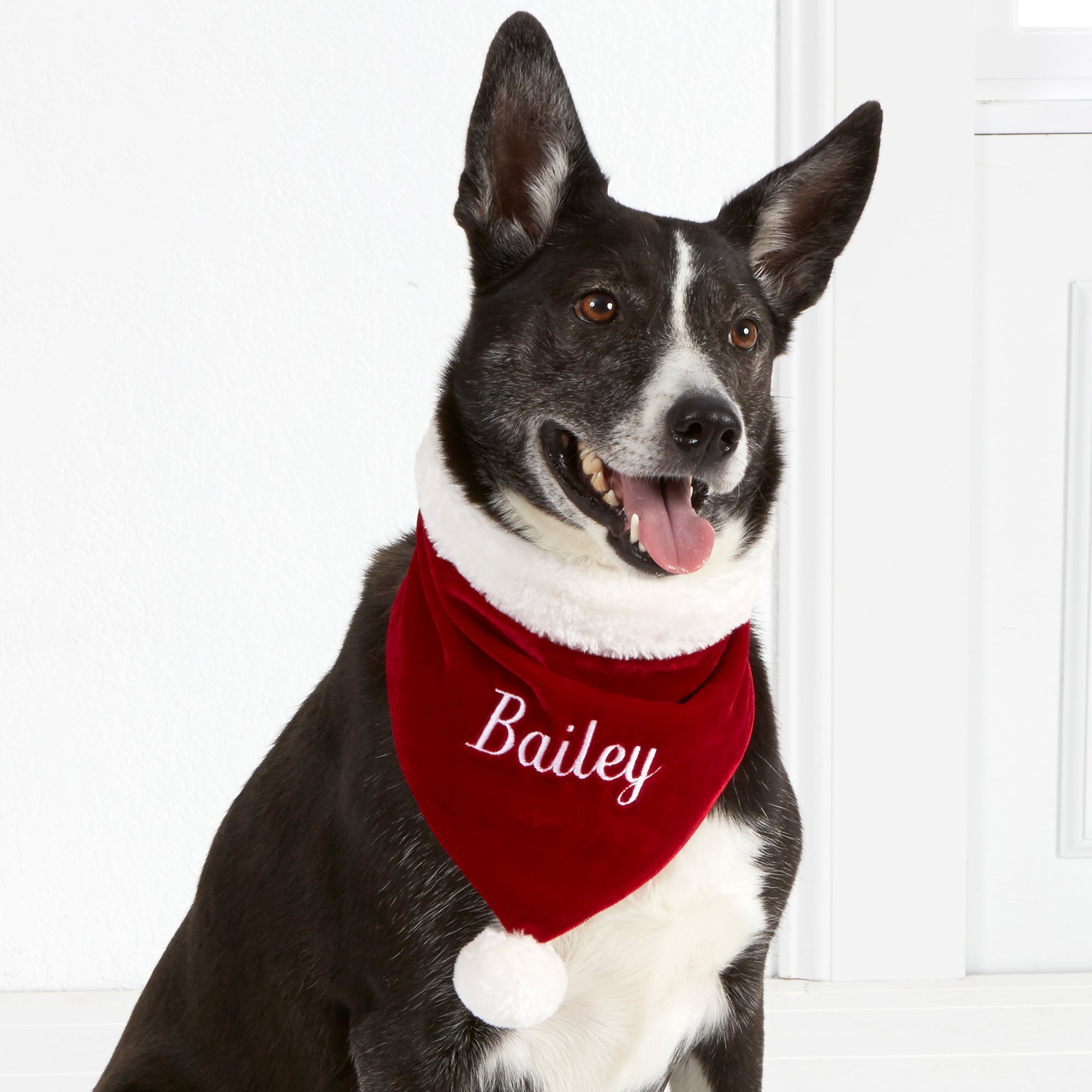 Personalized Santa Paws Velvet Dog Bandana from Personalization Mall
One way to add some Christmas cheer to your pooches look is with a personalized Christmas scarf!
You can add your pet's name, figure, or even their favorite Christmas tune onto the fabric.
Get creative and create a one-of-a-kind Christmas outfit guaranteed to turn heads.
From pom-poms to festive appliques, the possibilities are endless with this fun accessory – so why not give it a try?
Your pup will thank you, and everyone else will beg for merry-style inspiration.
---
Conclusion
Dress up your pooch this Christmas with a charming festive scarf!
With some patience and creativity, you can easily find one that expresses both your style sensibilities and those of your four-legged companion.
Keep in mind comfort matters most when choosing a scarf for Fido – pick something lightweight and breathable – then have some fun picking out colors & patterns!
With these tips in mind, shopping for the perfect Christmas scarf for Fido is easy peasy!
Happy Holidays!