When Old Man Winter comes to town, it's time to get serious about keeping your head and ears toasty.
Forget fashion – this is about survival! Arctic temperatures demand heavy-duty headgear with an extra layer of protection. Enter the ear flap hat. Those adorable mini-awnings for your ears not only look whimsical, but they could also save your life!
But first, let's address the elephant in the room – what exactly are these hats with ear flaps called?
They go by many names depending on the style, region, and era. Toques, trappers, bombers, stalkers – these quirky monikers all refer to hats with fold-down ear lapels to stop Jack Frost in his tracks.
Whatever you call them, flapped hats provide a first line of defense against the elements. Earflaps: keeping wintery ears weird and warm for centuries!
So let's dish the deets on some of history's most hardcore hats for frosty weather.
From Canadian classics to trapper throwbacks, we've got the skinny on fending off hypothermia in style.
Bundle up those ears, because we're going deep into the weird world of winter warming flaps. Grab a hot cocoa and let's flap about fabulous lidded looks for icy days!
---
Now, back to our flap-happy tour through chilly headwear history…
Toque it Up
The Canadian classic for keeping your noggin warm when the frost is on the pumpkin and the thermometer plunges, it's time to break out the winter headgear.
For maximum insulation, nothing beats the venerable toque. This tightly woven woolen cap has been keeping Canadian heads toasty for centuries.
With French-Canadian origins, the toque (pronounced "took") is also known as a tuque, knit cap, skully, or plain old beanie.
Pop a fuzzy pom-pom on top and you've got classic Canadian winter style. Legend has it Montreal Canadiens hockey players popularized these donut-shaped lids in the 1920s.
The toque's ear flaps add extra insulation for vulnerable lobes. Pull it down over your head like a sock and enjoy the cozy warmth.
---
Fly the Friendly Skies in a Bomber Hat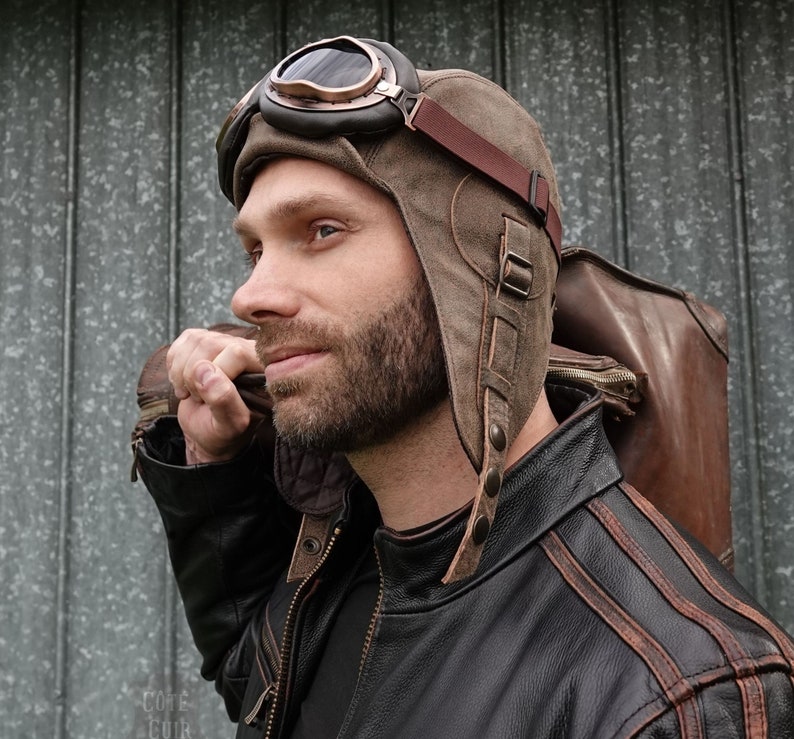 Feeling fly? Get on trend with the bomber or aviator hat. Inspired by 1920s military pilot headgear, this shearling-lined leather helmet will have you counting down to take-off.
With trademark fold-down ear flaps and a snappy leather shell, the bomber hat channels early aviation pioneers.
You can almost hear the propellers spinning! The fleecy shearling lining keeps your ears and head warm at high altitudes – or braving the winter streets.
This pilot-inspired style gained popularity during WWII and became a civilian streetwear staple.
Bomber hats add warmth and adventure to any winter outfit. Feel the need for ear flap speed? This groovy retro hat has you covered.
---
Trapper Hats: Embrace Your Inner Frontiersman
When the frost is cracklin' and the north winds blow, reach for a trapper hat. This iconic furry topper channels the intrepid 19th-century fur trappers who explored the northern wilderness.
With fold-down ear and neck flaps for maximum insulation, the trapper hat is designed for surviving harsh conditions in style.
Traditionally made of beaver, fox or rabbit fur, today's versions use synthetic materials.
From Davey Crockett to Yukon Cornelius, pop culture cemented the trapper hat's outdoorsman appeal.
---
Look Like a Pro in a Deerstalker Cap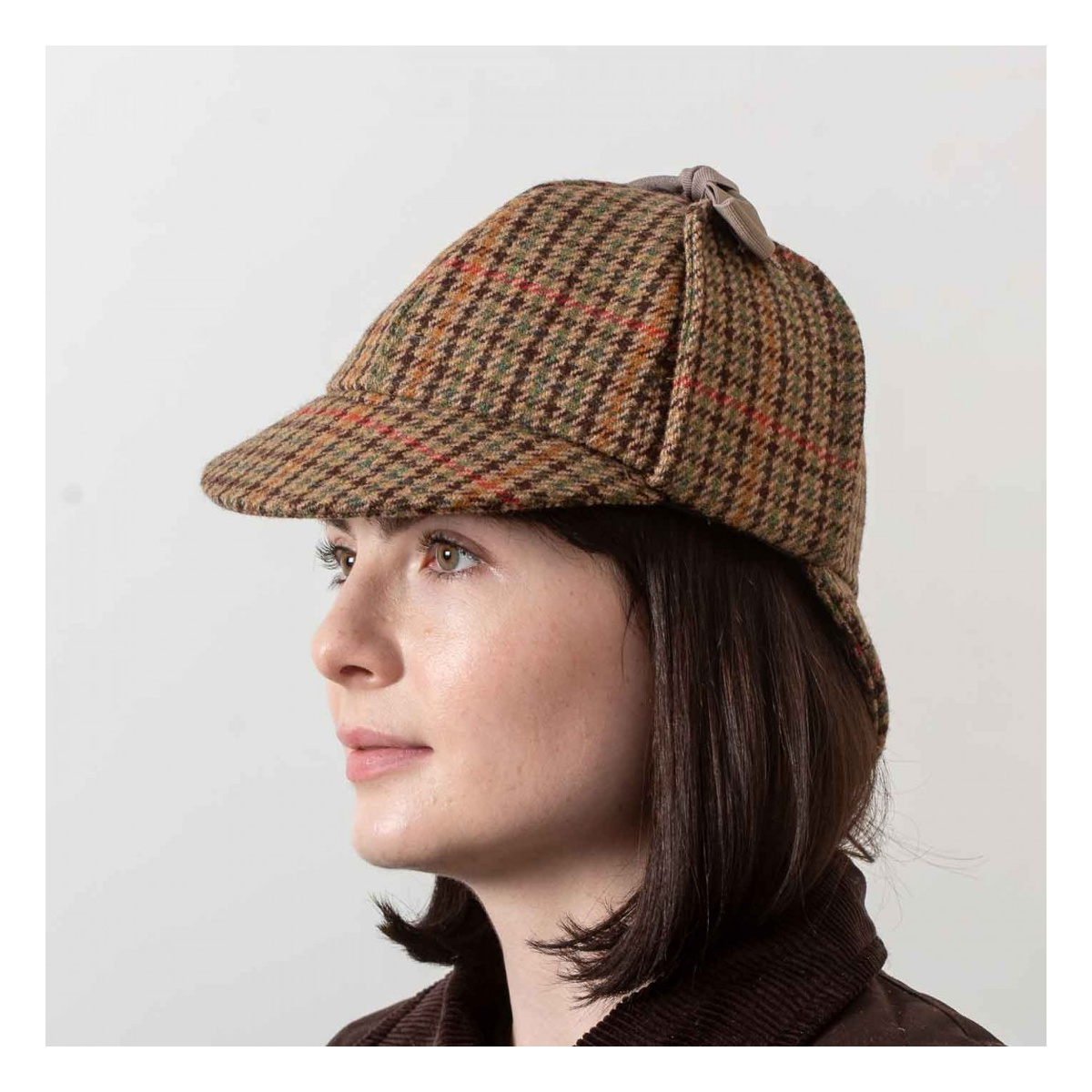 Elementary, my dear Watson! No self-respecting sleuth would be without the classic deerstalker hat.
With front and rear ear flaps and a distinctive silhouette, this wool cap will have you channeling Sherlock Holmes in no time.
Originally a Scottish hunting hat, the deerstalker later became synonymous with the fictional detective.
The hat's ear flaps and checkerboard pattern pay homage to its outdoorsy origins.
Don a deerstalker for your next mystery-solving adventure. With this hat's iconic style, the game is afoot!
Use your head and top off your look with the classic cap of literature's greatest detective.
---
More Flapped Winter Hats: Getting Even More Ear-ie
Right, ear muffs! There are even more wacky ways to keep your ears cozy in the cold.
Modern takes on classic baseball caps and bucket hats now rock built-in ear flap attachments.
These streetwise lids merge sporty style with insulating coverage. Suddenly shambling to the bus stop seems almost stylish…almost.
Eight-panel caps also get the flap treatment, because you can never have too much ear protection from winter's wrath.
And it's not just real fur flaps anymore. The ear lapel game has evolved far beyond leather and shearling.
Many modern flap hats use faux fur, fleece, or even wool for flap material. Some are even made of multiple layers with insulation in between. Take that, frostbite!
So next time you see some flap-tastic ear gear, don't judge. In fact, admire their ingenious solution for staying snug.
Protect those precious ears however you can out there. Whether vintage aviator or modern streetwear, flapped hats get the job done.
---
Conclusion
Stay stylish and shielded from winter's bite with a flapped hat. Whether you're a hockey-loving Canuck, dauntless pilot, rugged frontiersman, or sleuthing gumshoe, insulated ear flaps add warmth and personality.
Get the flap down with cool winter headgear and brave the cold in a hat-titude!