Winter can be dreary, but that doesn't mean your outfit has to be! With a little creativity and the right accessories, you can put together a head-turning winter look that will have everyone doing a double-take.
And what better way to accessorize than with a scarf? Not only do they keep you warm, but they also add a pop of color and personality to any outfit.
But with so many options out there, it can be hard to decide which color scarf is the best for your winter wardrobe.
That's why we've put together a list of 5 of the best scarf colors to help you make a statement this season:
Beige
Mustard
Warm Colorful Check
Rusted
The Same Color As Your Favored Outfit
Now let's check each one in details:
---
Beige
You can never go wrong with a classic neutral like beige. It goes with everything, from denim to black, and adds a touch of sophistication to any winter outfit.
Beige is a fantastic choice for all cozy or warm-colored coats such as camel, red, pink, blush, and cream.
You can go for a longer scarf to keep you warm or a shorter one that can be more of an accessory.
And oversized scarves are still trending this winter. A beige one will go with any outfit you have in your closet.
Bonus points if you find a scarf made from a luxurious material like cashmere or wool.
Mustard Yellow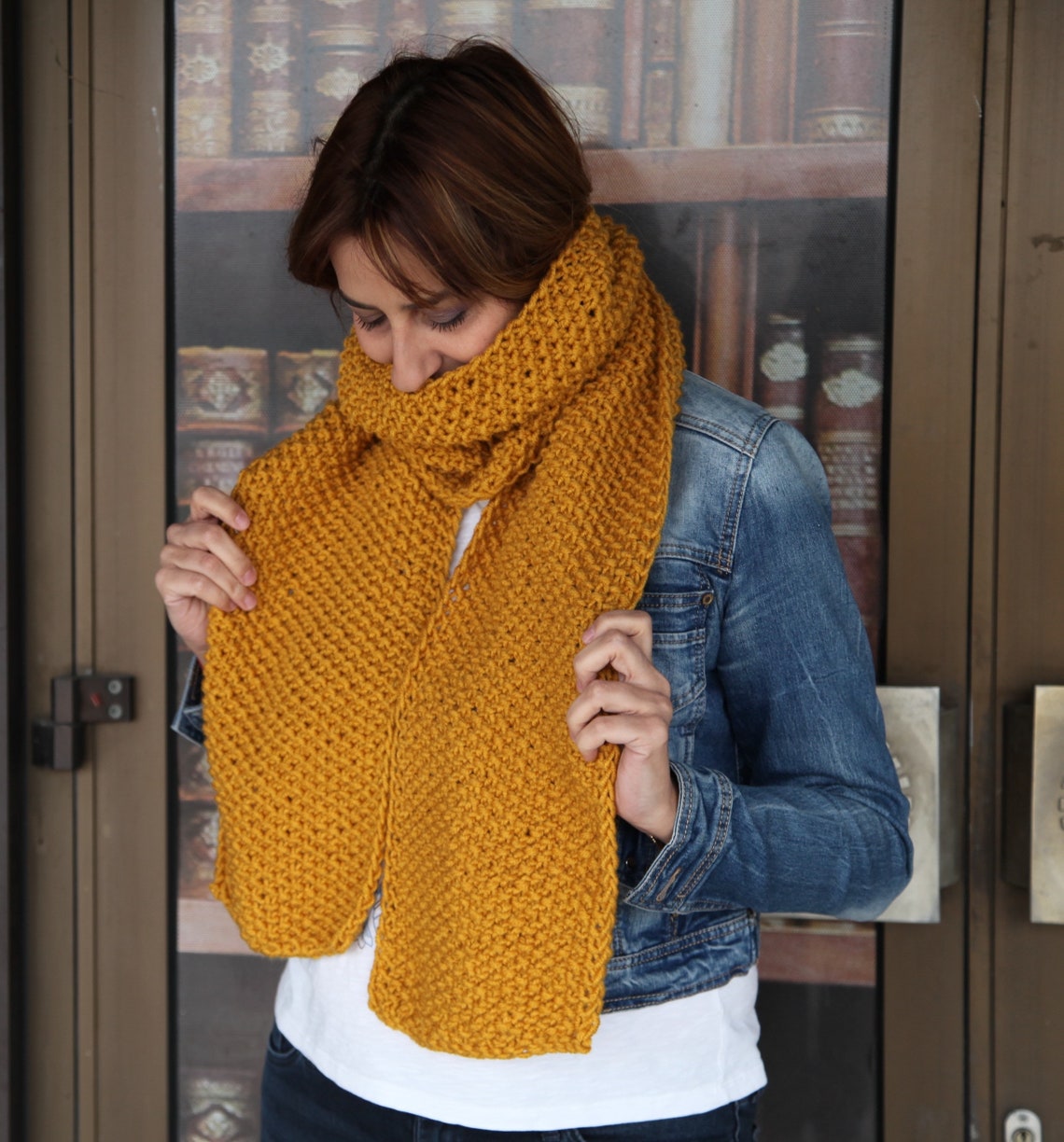 Mustard is the perfect color to add a pop of brightness to any outfit.It's also a great transitional color that can take you from fall into winter.
Pairing a mustard scarf with a cream coat or sweater is always a good idea. The two colors complement each other perfectly and give a subtle look.
If you want to make more of a statement, try pairing a mustard scarf with a red wine color coat. The bold color combination is sure to turn heads.
And for the scarf choosing we recommend you choose a "stiffer" one that will hold its shape and not be too bulky. Such a color needs some extra structure.
Warm, Colorful Check
A warm, colorful check scarf is the perfect way to add a touch of playfulness to an otherwise basic outfit. Plus, it will keep you nice and cozy when temperatures start to dip.
And they make females look full of energy and sunny. Hence you can go for a more soft and elegant look with some toffee and chocolate colors in the checks.
Besides, we recommend you try a sunset forest that includes: warm orange, some red, cream and yellowish white, and little brown and dark green.
Rusted
Rusted colors like red and orange are great for adding a touch of drama to an outfit.
They're also perfect for making a statement—ensure the rest of your outfit is fairly subdued so you don't look like you're about to go trick-or-treating.
You can pair your rusted red scarves with any popular colored coat or down jacket, such as black, beige, or gray.
And you can try an infinity scarf in rusted color, which will give you a sharp and mature look.
The Same Color As Your Favored Outfit
This one might seem obvious, but it's worth mentioning nonetheless. If you have a favorite winter coat or sweater in a particular color, try pairing it with a scarf in the same shade.
Not only will this help tie your whole look together, but it will also give you an extra layer of warmth on those especially cold days.
---
FAQS
1. Are Black Color Scarves Go with Everything?
Though a lot of people will tell you that black goes with everything, this isn't always the case. Black can be a bit harsh and overwhelming, especially when worn head-to-toe.
Instead, black is a very perfect choice for a base color. It provides a nice neutral canvas that can be accessorized with just about any color.
So, if you're looking to add a pop of color to your outfit, consider pairing your black scarf with a brightly colored coat or sweater.
2. Should You Consider Skin Color When Choosing Scarf? (Yes)
Yes! When choosing a scarf, it's important to consider your skin tone.
If you have a cool skin tone, opt for blue, purple, or pink colors. If you have a warm skin tone, go for earthy tones like brown, beige, or ivory.
---
Conclusion
We think these five scarf colors are perfect for this winter season. But ultimately, the best color for your scarf is the one that makes you feel confident and stylish. So experiment and find what works best for you!